Curly's mixes perfectly into your favorite drink
Add Curly's proprietary blend of natural caffeine and electrolytes to any beverage with our convenient Clean Energy liquid sticks! They're liquid, so they mix automatically.

Just like our water, our liquid sticks with low-dose caffeine and electrolytes are flavorless, so you can add natural energy and hydration to anything without worrying about preservatives, calories or artificial ingredients. Try it in water, a smoothie, or heck, even a shot of tequila. Curly's Clean Energy sticks energize anything.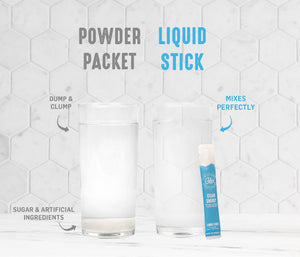 LIGHT CAFFEINE
+

ELECTROLYTES

+

NO SWEETENERS

+

NO B.S.

No matter who you are or what you do, Curly's Clean Energy sticks work with
your body to not only gently boost energy and focus, but to hydrate every cell with electrolytes as well.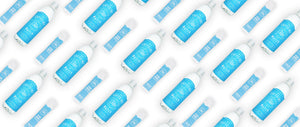 NATURAL CAFFEINE
No synthetic caffeine here. Curly's has the perfect amount of caffeine, straight from the coffee bean - 40mg, the same as at 1/4 of a cup of coffee or ½ of a can of soda.

ELECTROLYTES
We infuse Curly's with electrolytes to help your body hydrate and recover more efficiently. With every sip, you naturally replenish cells, energy and mood.
PREMIUM WATER
We only use premium water in our products. Our water is purified using reverse osmosis and UV light filtration. Because if it doesn't taste great, what's the point?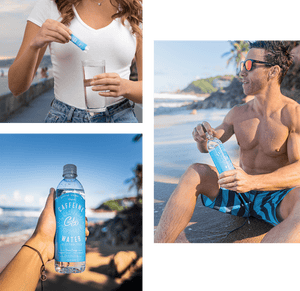 tired of being tired?
We get it. Life is hard. So many of us wake up tired and get stuck in the habit of choosing not-so-healthy ways to stay awake and give us energy to get through the day. Problem is, all of those high caffeine and sugary drinks dehydrate and set you up for a roller coaster of buzzes and crashes that make you feel like crap.
Life isn't a sprint. It's a marathon. That's why we created Curly's Clean Energy sticks and Caffeine Water with Electrolytes.
Little things we do every day add up over the years. It's time to feel good about what you're putting into your body. Energizing your favorite drinks with Curly's Clean Energy sticks and drinking Curly's Water throughout your day is one simple choice you can make to live your best life.
OUR STORY
FEATURED REVIEWS
WHAT PEOPLE ARE SAYING

Just tastes like water! I love that I can focus on drinking water and getting a small boost of caffeine throughout my day!
- JIM C., SAN ANTONIO, TX

I start my day off with Curly's! It's my healthy caffeine pickup throughout the day, at the gym in the morning and at the office.
- MARK M., HOUSTON, TX

Wow. This stuff is great! After my first sip I was hooked. I am not a coffee drinker and wanted a way to get my caffeine in a healthy way!
- JENNY S., DALLAS, TX

Brilliant! Curly's give me that bump of energy when I need it, but without the sugar and unhealthy ingredients. I've been telling all my close friends about it for months now!
- SHANA L., SANTA BARBARA, CA
Live your best life, drink curly's.
LOCATE A STORE NEAR YOU (WATER ONLY).
You can find Curly's Caffeine Water with Electrolytes at your neighborhood HEB, Whole Foods, or United Supermarket! We would love to see you and serve you! No store near you? No problem! We ship Clean Energy Liquid Sticks anywhere in the USA!
FIND CURLY'S NEAR YOU